A large part of your company's brand image depends on the packaging that you use for your cannabis product. The product packaging creates a critical first impression in a potential customer's mind because it is the first thing they see. While the primary function of any cannabis packaging is to contain, protect and identify your products, it is a reflection of your company in the eyes of the consumer.
For all types of businesses across the US, sustainability has become an important component for success. It is increasingly common for companies to include sustainability efforts in their strategic plan. Are you including a sustainability component in your cannabis business' growth plan? Are your packaging suppliers also taking sustainability seriously? More and more, consumers are eager to purchase cannabis products that are packaged thoughtfully, with the environment in mind. If you are using or thinking about using plastic bottles and closures for your cannabis products, you now have options that are produced from sustainable and/or renewable resources. Incorporating sustainable elements into your cannabis packaging may not only be good for the environment, but it may also be good for your brand.
Consider Alternative Resins
Traditionally, polyethylene produced from fossil fuels (such as oil or natural gas), has been used to manufacture HDPE (high density polyethylene) bottles and closures. However, polyethylene produced from ethanol made from sustainable sources like sugarcane (commonly known as Bioresin) are becoming more common.
Unlike fossil fuel resources which are finite, sustainable resources like sugarcane are renewable – plants can be grown every year. For instance, a benefit of sugarcane is that it captures and fixes carbon dioxide from the atmosphere every growth cycle. As a result, production of ethanol-based polyethylene contributes to the reduction of greenhouse gas emissions when compared to conventional polyethylene made from fossil fuels, while still exhibiting the same chemical and physical properties as conventional polyethylene. Although polyethylene made from sugarcane is not biodegradable, it can be recycled.
Switching to a plastic bottle that is made from ethanol derived from renewable resources is a great way for cannabis companies to take positive climate change action and help reduce their carbon footprint.
For instance, for every one ton of Bioresin used, approximately 3.1 tons of carbon dioxide is captured from the atmosphere on a cradle-to-gate basis. Changing from a petrochemical-derived polyethylene bottle to a bottle using resins made from renewable resources can be as seamless as approving an alternate material – the bottles look the same. Ensure that your plastic bottle manufacturer is using raw materials that pass FDA and ASTM tests. This is one way to help reverse the trend of global warming due to increasing levels of carbon dioxide (CO2) in our atmosphere.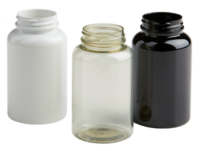 Another option is to use bottles manufactured with recycled PET (polyethylene terephthalate). Consisting of resin derived from 100% recycled post-consumer material, it can be used over and over. This is an excellent choice because it helps keep plastic waste to a minimum. Regardless of the resin you select, look for one that is FDA approved for food contact.
Consider Alternative Manufacturing Processes
Flame Treatment Elimination
When talking about plastic bottle manufacturing, an easy solution to saving fossil fuels is eliminating the flame treatment in the manufacturing process. Historically, this process was required to allow some water-based adhesives, inks, and other coatings to bond with HDPE (high density polyethylene) and PP (polypropylene) bottles. Today, pressure-sensitive and shrink labels make this process unnecessary. Opt out and conserve natural gas. For instance, for every 5 million bottles not flamed approximately 3 metric tons of CO2is eliminated. This is an easy way to reduce the carbon footprint. Ask your cannabis packaging manufacturer if eliminating this process is an option.
Source Reduction (Right-Weighting)
When considering what type and style of bottle you want to use for your cannabis product, keep in mind that the same bottle may be able to be manufactured with less plastic. A bottle with excess plastic may be unnecessary and can result in wasted plastic or added costs. On the other hand, a bottle with too little plastic may be too thin to hold up to filling lines or may deform after product is filled. Why use a bottle that has more plastic than you actually need for your product when a lesser option may be available? This could save you money, avoid problems on your filling lines, and help you save on your bottom line. In addition, this will also help limit the amount of natural resources being used in production.
Convert to Plastic Pallets
If you are purchasing bottles in large quantities and your supplier ships on pallets, consider asking about plastic pallets. Reusable plastic pallets last longer than wood pallets, eliminate pallet moisture and improve safety in handling. They also reduce the use of raw materials in the pallet manufacturing process (natural gas, metal, forests, etc.) aiding in efforts towards Zero Net Deforestation. And, returnable plastic pallets provide savings over the long term.
If You Don't Know, Ask Your Cannabis Packaging Partner
It is important to find out if your plastic packaging partner offers alternative resins that are produced from renewable sources or recycled plastics. It is also prudent to partner with a company that is concerned about the impact their business has on the planet. Are they committed to sustainability? And, are they eliminating processes that negatively affect their carbon footprint? What services can they provide that help you do your part?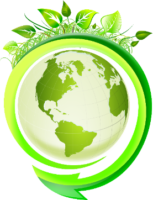 When you opt to use sustainably produced plastic bottles and closures for your cannabis products, you take an important step to help ensure a viable future for the planet. In a competitive market, this can improve the customer's impression of your brand, increase consumer confidence and help grow your bottom line. Not only will you appeal to the ever-growing number of consumers who are environmentally-conscience, you will rest easy knowing that your company is taking action to ensure a sustainable future.
The post Sustainable Plastic Packaging Options for Your Cannabis Products appeared first on Cannabis Industry Journal.