Folks from around the country and the world tuned into the U.S. Food & Drug Administration (FDA) website as they held a public hearing on Friday, May 31. Manufacturers and suppliers asked the FDA to regulate CBD like food or dietary supplements, while the FDA seemed to want more evidence on the safety of CBD products before giving the greenlight.
Background On The Hearing
For the uninitiated, after President Trump signed the Farm Bill into law back in December 2018, Scott Gottlieb, now former director of the FDA, issued a statement the same day the Farm Bill passed, clarifying the FDA's regulatory authority. In the statement, Gottlieb explained that Congress preserved the FDA's authority to regulate products containing cannabis and its constituents under the Federal Food, Drug, and Cosmetic Act (FD&C Act).
In April 2019, around the same time he resigned from the FDA, Gottlieb issued another statement, acknowledging the quickly growing industry throughout the country and total lack of federal regulatory guidance. This time around, Gottlieb laid out a handful of steps that the FDA plans on taking to address regulations around hemp and cannabidiol (CBD). Those included scheduling the public hearing for May 31, where written and oral public comments were submitted by stakeholders, sharing "their experiences and challenges with these products [hemp and CBD products], including information and views related to product safety."
That statement also announced the formation of an internal agency working group to "explore potential pathways for dietary supplements and/or conventional foods containing CBD to be lawfully marketed; including a consideration of what statutory or regulatory changes might be needed and what the impact of such marketing would be on the public health."
Fast-forward to May 31, the day of the public hearing, and all eyes in the industry focused on what all these stakeholders had to say to the FDA about CBD. The day started off with about two hours of oral comments, each speaker had roughly two minutes to deliver their thoughts.
Oral Comments
Industry stakeholders representing cannabis businesses sang much of the same tune, clamoring for wise regulations on safety, testing, banking and interstate commerce, among other standards. NCIA Policy Director Andrew Kline's comments included running through five major positions of the industry trade organization representing CBD companies. Those included recommending the FDA act quickly in setting up regulations, stressing the massive economic impact of the industry, saying that CBD products are generally safe, clamoring for voluntary, consensus-based standards and informing consumers of any potential risks. "The bottom line is this – an overwhelming preponderance of evidence indicates that cannabis and cannabis-derived compounds present minimal health and safety concerns," Kline told the folks at the FDA. "Time is of the essence. Hemp-derived CBD products are in very high consumer demand and the industry is eagerly awaiting FDA's regulatory framework for these products. We strongly recommend that FDA act quickly to clarify the regulatory environment because there is significant confusion in the market."
Anna Williams, representing the American Association for Laboratory Accreditation (A2LA), stressed the importance of testing for contaminants and adulterants as well as advocating for national standards on lab testing, instead of the state-by-state network of different standards.
Patients & Public Safety
After industry stakeholders had their chance to speak, the FDA allowed a group of advocacy organizations representing patients time to speak. That included representatives for the Alzheimer's Association and the American Epilepsy Society, both of which were hesitant to throw their full support behind CBD as medicine. Kevin Chapman with the American Epilepsy Society said he wants to see clear warning labels, testing standards, more clinical trials and more studies before the group is ready to form a position on using CBD as medicine. Keith Fargo with the Alzheimer's Association supports clinical trials to study it more, but thinks CBD is risky for patients without serious evidence of efficacy. A representative from the Tuberous Sclerosis Alliance also echoed similar concerns. They want to see labeling of drug interactions on labels of CBD products.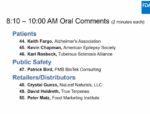 After those comments, some organizations had the chance to speak followed by comments from retailers and distributors. Patrick Bird, owner of PMB BioTek Consulting, spoke on behalf of AOAC International, where he primarily discussed public safety. He said they want cannabis products to be regulated with food safety in mind, asking for FSMA to apply to hemp products. They want to adequately ensure product safety with things like mandating HACCP plans, recall readiness, saying hemp products should be treated just like food products.
Retailers & Distributors
Peter Matz, representing the Food Marketing Institute, the trade association for the supermarket industry, said that regulatory ambiguity is a serious issue that needs addressing. "There is mass confusion in the marketplace for the public, suppliers, retailers and state regulators," says Matz. "Demand for CBD products in human and animal use is growing rapidly. ¼ of American have already tried it. We are fielding questions from companies seeking clarity regarding the current federal regulatory framework." He added, what many others also mentioned, that the FDA needs to move swiftly to provide a pathway to regulation.
State Regulators
Next on the docket came presentations from state government entities, including state departments of agriculture, followed by healthcare professionals. The state regulators that spoke mentioned a lot about food safety, standards, testing regulations, GMPs and things like that to protect consumer safety. "Currently states are struggling with the lack of sound scientific research available in CBD and long-term health impacts," said Pam Miles, representing the Virginia Department of Agriculture.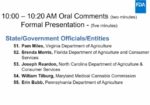 One interesting aspect on their talks however was telling the FDA just how large their markets have gotten already and how they need guidance on how to regulate markets in their own states. Joseph Reardon, with the North Carolina Department of Agriculture, said they already have about 600 farmers growing hemp and thousands of processors working with the product in their state. "We urge the FDA to resolve the statutory issues improperly establish a legal pathway for CBD products to enter the market place," Reardon commented. He also asked that the FDA extend the written comment period from July to August. "We are simply looking for a regulatory framework on the extraction, production and reconstitution of CBD or cannabinoid related products."
Healthcare & Research
Healthcare providers, and physician testimony also echoed a lot of the same concerns, including the lack of research done, concerns about effects on at-risk populations and concerns about use as ingredients in dietary supplements and food. Some of the presentations also highlighted the room for nefarious activity in an unregulated marketplace. Some went as far as to mention cases where they found CBD vape juices with DXM in it (the active ingredient in cough syrup), CBD products found to contain THC, as well as synthetic cannabinoids responsible for drug overdose deaths. Some advocates in the hemp and CBD community have equated these arguments similar to reefer madness.
The major takeaway from this hearing is that everyone wants to see more data. Researchers and healthcare providers want to study the efficacy of CBD used in medicine, regulators want public safety information, patient advocates want to see data about effects on at-risk populations, trade organizations want data to back up label claims and the FDA wants to see just how safe CBD really is.
The post FDA Public Hearing On Hemp: What You Need To Know appeared first on Cannabis Industry Journal.