Today in the states where medical and recreational cannabis is legal, cannabis products purchased from licensed facilities are required to have undergone testing by accredited labs. The compliance testing verifies advertised potency levels and checks for microbial contamination, herbicides, pesticides, fungicides and the presence of mold and mildew, among other potential contaminants.
Until recently, little attention has been given to disposable gloves and their possible involvement in the contamination of the products they handle.  What factors should you consider when purchasing gloves?
Disposable Gloves Facts
Disposable gloves, like cannabis products, are not made of equal quality. There are several different types of disposable gloves on the market, and huge variations in glove quality and chemical compositions exist between and within each glove type.
Recent scientific studies have revealed how gloves produced in factories with poor manufacturing standards and raw material ingredients can contaminate the products they handle. High-level toxins in disposable gloves were found to affect lab results, toxins in gloves contaminated the food they touched, and pathogen contamination of unused disposable gloves has been proven. Should the cannabis industry take more interest in the disposable gloves they are using? With so much at stake if compliance test results are compromised, we think so!
Glove Procurement: Factors to Consider
What factors should you consider when purchasing gloves?
Industrial grade gloves- There is no such thing as an industrial grade glove certification, although it does give an incorrect impression that gloves are strong and resilient. Industrial grade means they have not been subjected to inspection nor have passed any specific testing requirements.
Food contact gloves are certified under FDA Title 21 CFR Part 177, which states the components of the glove comply with the FDA regulations and the gloves consist of "substances generally recognized as safe for use in food or food packaging." Few controls exist for glove manufacturing relating to the reliability of raw materials and manufacturing processes, and costs can be reduced with the use of cheap, toxic materials.
Medical grade gloves have to pass a series of technical tests in order to meet the safety requirements specified by the FDA. Gloves are tested for puncture and abrasion resistance, must meet tension and elongation tests and are also tested for chemical substance resistance. Manufacturers of these gloves must receive 510k certification. As this study shows, even medical gloves can contain high levels of toxic ingredients, affecting laboratory test results.
The Acceptable Quality Level (AQL) refers to a quality standard for measuring pinhole defects- the lower the AQL, the less defects the gloves have. There are no AQL requirements for food grade or industrial grade gloves, meaning there are no guidelines for the number of failures per box. Medical grade gloves must have an AQL of 2.5 or less, meaning 2.5 failed gloves per 100 gloves is an acceptable level.
For Californian cannabis companies, are your disposable gloves Prop. 65 compliant? Accelerator chemicals, such as 2-Mercaptobenzothiazole (MBT) found in some nitrile gloves, have recently been added to the Prop. 65 chemicals known to cause cancer.
How Gloves Can Contaminate Products
Physical, chemical and microbiological hazards have been identified in disposable glove supply chains. Gloves of any grade are not tested for cleanliness (microbial and bioburden levels), raw material toxicity and chemical composition, or pathogen contamination.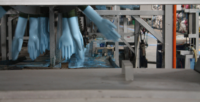 100% of glove factories supplying the United States are based in Southeast Asia. These factories are generally self­-regulated, with FDA compliance required for a rough outline of the ingredients of the gloves rather than the final product. Few controls are required for glove manufacturing relating to the reliability of raw materials, manufacturing processes and factory compliance or conditions. A clear opportunity exists for accidental or intentional contamination within the glove-making process, especially to reduce costs.
In order to safeguard their customers from product contamination, a selection of tests and certifications, some of which are unique within the glove industry, are being implemented by glove supplier Eagle Protect. These tests make sure Eagle's gloves coming into the United States are made in clean, well run factories, free of any type of contamination and are consistent in material makeup to original food safe specifications. This glove Fingerprint testing program, consists of a number of proprietary risk reduction steps and targeted third-party testing methods, includes gas chromatography combined with mass spectroscopy (GC/MS); surface free energy determination; in vitro cytotoxicity analysis; and microbial viability-linked metagenomic analysis.
With a great deal of faith placed on a glove supplier's ability to deliver disposable gloves sight unseen, we believe these tests are essential to further reduce risks or pathogen contamination associated with them, keeping your cannabis products safe.
The post Disposable Gloves: The Unregulated Cannabis Threat appeared first on Cannabis Industry Journal.